The HCO BG30L Surveillance Camera lets you keep an eye on any location you choose, from anywhere you are. This wireless infrared security camera can transmit the images to your smart phone or email, and let you listen in by cell phone to what's going on in the place you are monitoring. The HCO BG30L Mobile Surveillance Camera Alarm System is self-contained and self-powered, with no external power cables or connections required. You can locate the camera anywhere that has cell phone coverage. When triggered - either by the 70-foot-range motion sensor or by you transmitting a command by cell phone - the camera will transmit still images to your cell phone or e-mail address.
The HCO Outdoor Products BG30L Infrared Security Camera can provide coverage and security equally well by day or night. At night, the camera uses a motion-triggered infrared flash (invisible to the human eye) and IR camera to take images in total darkness. By day, the standard camera sensor is used, in combination with the motion sensor. The HCO BG30L Security Camera features two-way communication - it can send images or sound to your cell phone, without you having to travel to the site. This feature is ideal if you don't want disturb your monitoring environment or leave any scent there, making it an ideal wildlife camera and excellent for scouting out game trails.
The HCO BG30L Motion Sensor Camera is small and unobtrusive, and is easy to set up and operate. The camera can be tripod mounted with the standard-sized mounting hole; it can also be wall mounted, window mounted, or stood alone on a flat surface.
---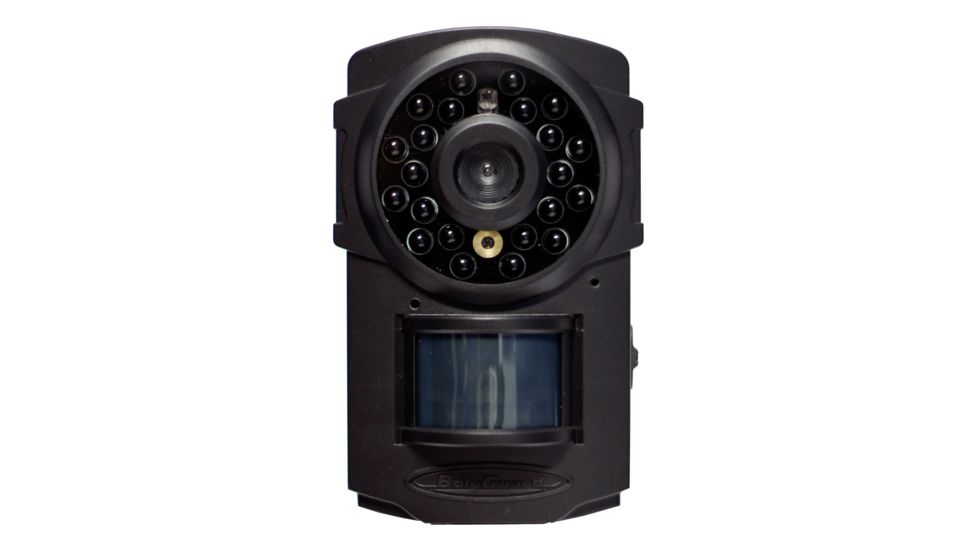 HCO Outdoor BG30L Wireless Security Camera w/ Motion Sensor, Invisible IR Flash
RATING
89.5 /100
Design

Excellent

Performance

Excellent

Value for money

Excellent

Feature

Excellent
Specifications for HCO Outdoors BG30L Motion Sensor Security Camera:
| | |
| --- | --- |
| Weight: | 6 oz |
| Height: | 4-1/4" |
| Width: | 2-3/4" |
| Length: | 1-1/2" |
| Power: | built-in LI-Ion battery; can use external power source |
Features of HCO Outdoor Products BG30L Wireless Security Camera:
GSM wireless camera/alarm system - The system is based on GSM GPRS MMS (Multimedia Message Service), GSM SMS (Short Message Service) and GSM Voice Technologies. When it is activated, it will send MMS (Pictures) and text alert by SMS to your cell phone. It also can send MMS (Pictures) to your Email. It support Quad Band 850/900/1800/1900 MHz GPRS/EDGE network. Images can be saved on a local Micro SD card as well.
Standalone system, installation is very simple - The unit can work as a separate camera/alarm system and talks directly with your cell phone or Email. With build-in Li-ion battery and capacity to be connected to external power source, the unit is extremely easy to be installed anywhere with cellular network and start working immediately.
Super compact - The unit weight around 6 oz and measures 4-1/4 inches by 2-3/4 inches by 1-1/2 inches.
Night vision(Blackout invisible IR flash) - 940nm IR LEDs provide invisible flash during night time.
Built-in microphone for audio surveillance, Real-time sound monitoring(Listen-in function) - By calling the number, it will pick up and let you hear the surrounding sound. You can clearly hear the voice, footstep, and so on.)
Two-way communication - You can control the camera remotely, such as ARM, DISARM, Listen-in, Photo-taking by SMS. The unit will reply with the status.
RF wireless remote control - It will allow you to ARM, DISARM, turn on laser pointer (position assistance) or make emergency calls without touching the unit.
Multiple recipient - The unit can send the image or alarm to up to 4 phone numbers and 4 Email addresses.
Integrate with wireless motion detector - You can program a regular 433MHZ wireless motion detector to the camera to trigger the camera.
Very low power consumption - With
Suitable Locations - Literally any spot with cellular reception, such as shop, office, warehouse, factory, worksite, home, garage, school, supermarket, and so on.
Wireless carrier - For U.S.A. customer, the HCO BG30L can be used with AT&T or T-Mobile GSM network. The text message plan is required. Or data plan is required if you are using GPRS settings.
---
---