This system will work with .223/5.56 x 45 mm NATO.
Kit includes:
Patented One-Piece Bolt Carrier
P Series Micro Block - Non-Adjustable
Upper Receiver Bushing
Bushing Installation Rod
Bolt Spring
Drive Rod with Bushing and Spring
Installation Instruction Card
The Adams Arms Piston System:
A short stroke free floating piston system.
Is Self-Cleaning.
Carbon and gases are expelled forward, away from operator.
Corrosive resistant coating processes.
Harmonics are not transferred into the barrel.
Doesn't vent directly to atmospheric pressure; this eliminates flash signature and super sonic crack which is optimal for night vision and suppresses fire.
Has a Lifetime Warranty. The new Adams Arms P Series M-LOK Rail was designed for our new P Series Lineup of rifles. Designed and engineered to be multi-purpose, the P Series Rail has a rigid and ergonomic design and features that make this the best choice for everyday enthusiasts, avid shooters, 3-gun competitors, law enforcement, military, and everything in between. This rail is compatible with any of the Adams Arms low profile piston systems and most standard mil-spec AR-15 rifles.
---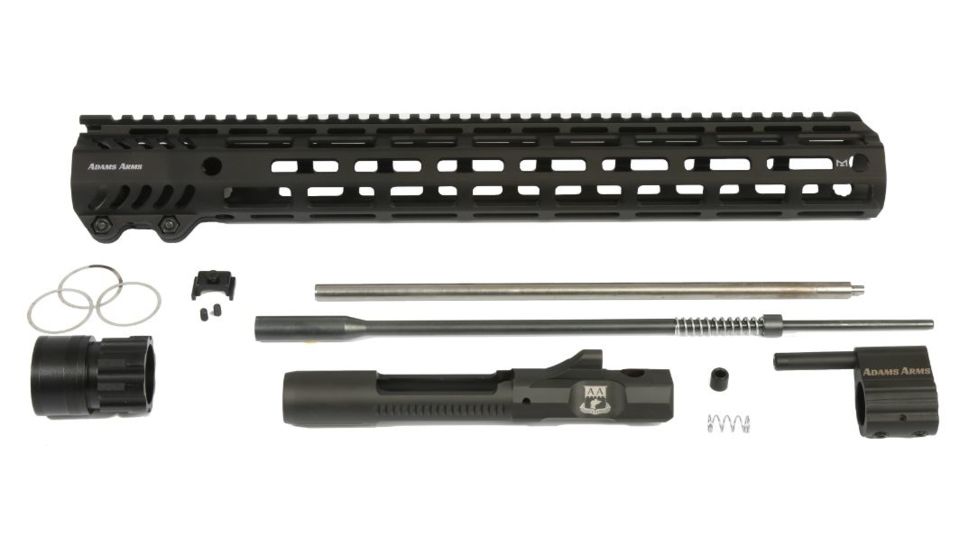 Adams Arms P-Series Mid Kit
RATING
92.75 /100
Design

Excellent

Performance

Excellent

Value for money

Excellent

Feature

Excellent
Features of Adams Arms P-Series Mid Kit:
Kit includes:
Patented One-Piece Bolt Carrier
P Series Micro Block - Non-Adjustable
Upper Receiver Bushing
Bushing Installation Rod
Bolt Spring
Drive Rod with Bushing and Spring
Installation Instruction Card
Specs:
Length: 15.5""
Material: 6061 T6 Aluminum
Inside Diameter: 1.290""
Outside Diameter: 1.667""
Gas Block Clearance: Height 1.011""
Width .450""
Weight: 10.528 oz (14.3 oz with barrel nut & hardware)
Includes:
P Series M-LOK Rail
Proprietary Barrel Nut
Anti-Rotation Insert with 6-32x.1875 Screw
(2) 8-32x.375 Screws
(2) 8-32 Hex Nuts
---
---