Price Save Up to 25% from $95.99 to $78.19
The Magpul MBUS Pro Flip Up Back Up Sight has been created to make sure that you have a great flip up sight that will not let you down in the field. This Rifle Sight from Magpul Industries is a Melonite-finished all-steel back up sighting solution that delivers maximum functionality and strength with minimum bulk at a price that's even smaller than its size. The dual aperture, windage adjustable rear and no-tool, elevation adjustable front excel in all 1913 Picatinny rail mounting applications, including rail-height gas blocks. Positive detents keep the Magpul MBUS PRO Tactical Rifle Backup Sight at standard AR sight height when deployed, and so low when they are stowed that you'll never notice them until they're needed. The narrow width of the Magpul MBUS Pro Sight is compatible with most IR aiming laser and light installations for the professional user.
---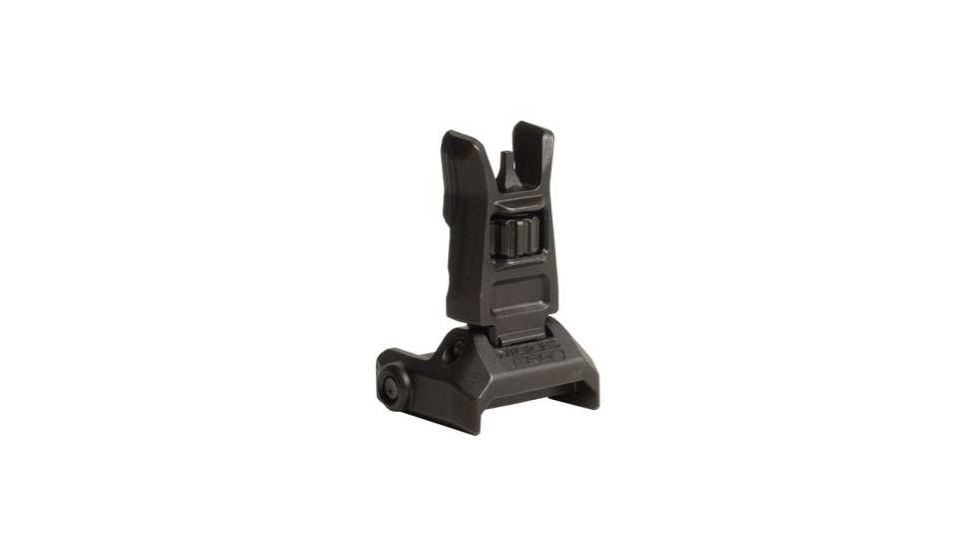 Magpul Industries MBUS Pro Flip Up Sights
RATING
94 /100
Design

Excellent

Performance

Excellent

Value for money

Excellent

Feature

Excellent
Specifications for Magpul Industries MBUS Pro Flip Up Sights:
| | |
| --- | --- |
| Color: | Black |
| Gun Model: | M16, AR-15 |
| Fabric/Material: | Steel |
| Front Material: | MBUS Pro |
| Attachment/Mount Type: | Picatinny |
Features of Magpul Industries Mbus Pro Front Flip Sight Blk MAG275:
All steel construction
Steel, rectangular sight post selectable between Match and Standard widths
.040in Match width for increased precision
.060in Standard width for maximum visibility
Case hardened and finished with Melonite QPQ for extreme resistance to wear and corrosion
Mounts on any MIL-STD-1913 Picatinny/STANAG 4694 rail including receiver-height gas blocks
Elevation adjustment knob - no tools required
Positive detents in both the up and down positions as well as on the elevation knob
Standard AR sight height when deployed
NOTE: All MBUS Pro Front Sights now come factory-equipped with the Enhanced Front Sight Post. There is no need to order one separately unless you are retrofitting an older MBUS Pro front sight. Enhanced Front Site Posts are not compatible with standard MBUS polymer sights.
---
---
PROS

Looks awesome
small and compact
durable all metal construction
Easy Mount
Compact, robust
Quality, compact, folding feature
Rock solid, low profile, nice finish
Slim profile
Strong Light weight
pivot towards front
Build quality
Love it
High quality reasonably priced
Easy adjustment
Fitment is a lot better than plastic.
Nice black color helps eliminate glare
Smaller front post makes for longer ranges
No fiddly buttons just flip it up
Good for use with gloves.
The price seems fair.
nicely machined
Good Sight Picture
Nice small diameter front post.
Finish is well executed!
Good hardware (mounting screws)
No rattles.
Positively stay in place. (stable)
Solid back up sights
Tool less adjustments, high quality, metal
better build quality
Quality, versatility, modifiable, adjustable, heavy load bearing capacity
Quality construction and coating, lighter than it appears
Quality, sight picture, installation. Sighting in
Easy to install and use
Sturdy , light , and compact
Well Constructred
metal construction
Made to perfection
Easy to install
easy to site in
Durability, foldimg
CONS

Not spring loaded (arguable)
Price (but honestly, pretty cheap price considering the quality).
the front post is still kinda thick.
Can be difficult to deploy.
No range adjustments.
Adjusting is a bit stiff.
Costly for back up sights
more expensive than some other options
slower to open
pricey,but you get what you pay for.
#Magpul Industries