TZ Case Optima Classic Wide Aluminum 15 inch Pistol Case - Brown Leatherette Pattern belongs to Optima Classic Series. A wide aluminum frame and brown leatherette side panels give this pistol case from TZ Case eye appeal! T.Z Case Extrusion Cases are designed to serve and protect your equipment during transport. This T.Z Case Pistol Case is specifically designed to hold single 15 inch pistol. T.Z.Case Bow Cases from Toughmate-Archery Series comes filled with a high density foam. The alumitech side panels with brown leatherette pattern of pistol cases from TZ Case are resistant to nicks and scratches. TZ Case Toughmate Cases are assembled by hand. Optima cases by TZ Case feature draw style bolt latches and triple dial combination lock. All gun cases from TZ Case meet airline requirements for firearm transport.
Our store carries a wide selection of shotgun cases from different series by TZ Case, such as T.Z. Case Toughmate Alumitech 6-Pistol/Sil. Pistol Case 25x15x4.75in, T.Z. Case ProEdge Series Hexagon Frame Design Double Rifle Case 53x15x4.25 and TZCase 2-nd Amendment Plaque 4.75x3, TZ Case Buffalo Cape Waterproof Utility Molded Case 20.25x16x7.5, T.Z. Case Ironite Series Alumitech Diamond Plate Black Finish Pistol Case 12.5x9x6 and other.
Whether you need a case for your favorite firearm or you need a waterproof case to protect your equipment and valuables, TZ Case has the perfect case for your next outdoor adventure.
Specifications for TZ Case Optima Classic Wide Aluminum 15" Pistol Case - Brown Leatherette Pattern:
Type: 
  Pistol Case
Color: 
  Brown Leatherette Pattern
Dimensions: 
  15"x 9"x4.5"
Material: 
  Aluminum
Finish: 
  Brown Leather
Features of T. Z. Case Optima Classic Wide Aluminum 15" Pistol Case - Brown Leatherette Pattern:
Double wall aluminum frame construction
A seal to resist dust, moisture, lubricants and corrosion
Anti-slip grip
Patented hidden hinge
Triple dial combination lock
Brown leatherette finish
Package Contents:
TZ Case Optima Classic Wide Aluminum 15" Pistol Case - Brown Leatherette Pattern TOP0015BRN
---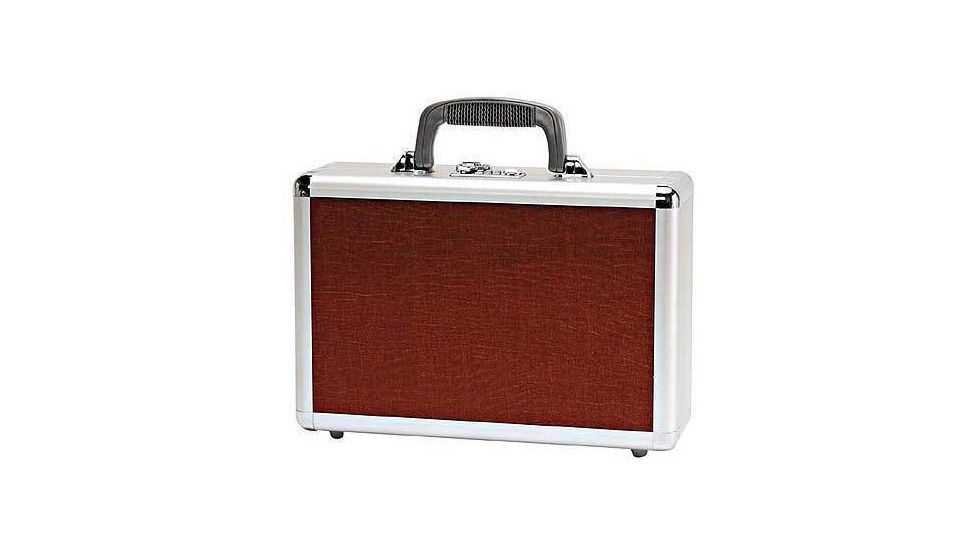 T Z Case Optima Classic Wide Aluminum 15'' Pistol Case - Brown Leatherette Pattern TOP0015BRN
RATING
92.25 /100
Design

Excellent

Performance

Excellent

Value for money

Excellent

Feature

Excellent